SAINT FRANCIS OF ASSISI RESEARCH LIBRARY

Welcome
On behalf of Brother Allen and the staff of the Saint Francis of Assisi Research Library, we wish you peace and all good! You are most welcome here!
History
Launched in the summer of 2018 with the gift of just four books about the Poverello, The Saint Francis of Assisi Research Library has since become the largest private research library of its kind in the world dedicated exclusively to the life, history, and study of Saint Francis of Assisi.
Catalog
Our library's ever-growing catalog and archives of more than 2,000 books, journals, media, and art in more than thirty unique collections (not all displayed on this website) includes the titles of some of the world's most recognized Franciscan scholars and authors writing on Franciscan philosophy, theology, spirituality, and history from the 13th to the 21st century. As such, the library is a Franciscan athenaeum—a sanctuary for anyone interested in learning about the Franciscan intellectual and spiritual tradition.
Mission
And working from our humble upstairs home within Hope Center Houston, our library's mission is to celebrate and share the life and legacy of Saint Francis of Assisi with the local community and world through its research, education, advocacy, and personal ministries of Franciscan friar, Allen White, OSF.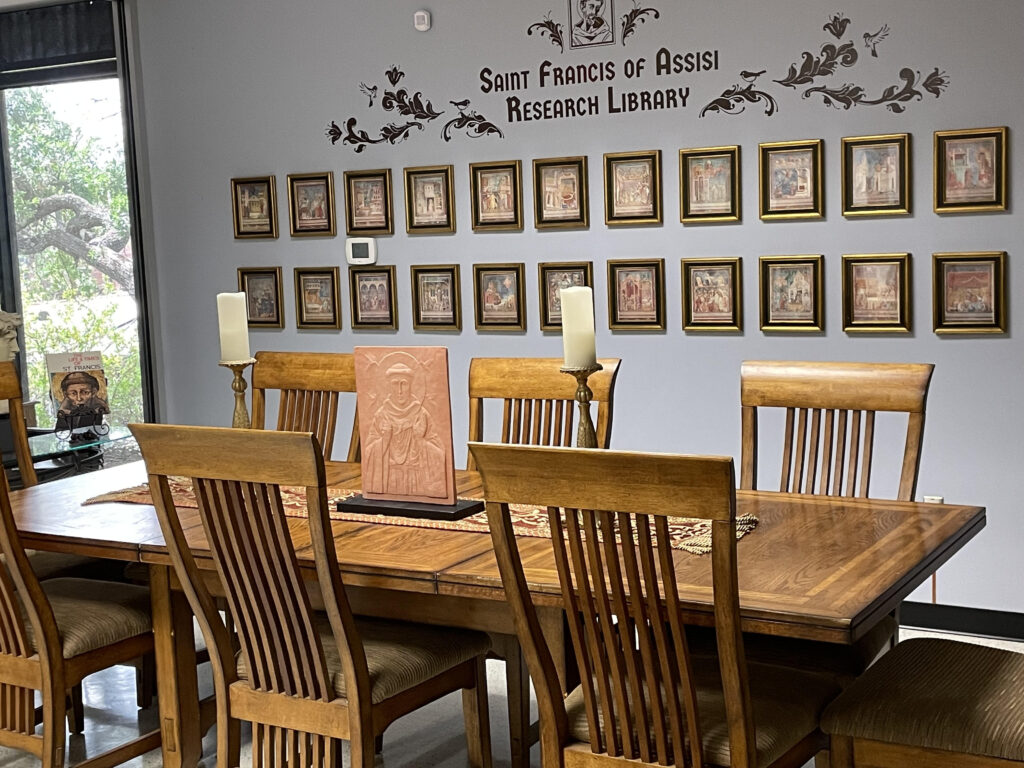 Spirituality Center
New! Beginning January 2024, spiritual programs are currently being planned to offer weekly and monthly opportunities to learn, practice, and share contemplative spirituality and prayer, especially Nexus Prayer, through our prayer circles, classes, and lecture series at the library. Stay informed about our upcoming program offerings by signing up to receive our regular updates and monthly newsletter by email.
Research
Finally, as a proud member of Atla (American Theological Library Association), not only are we a world-class research library, but we are also a lending library of select books from our vast catalog, offering research assistance and resource materials at little or no charge to registered friends of the library, the world-wide Franciscan family, and both students and scholars alike working on various Franciscan research and writing projects around the world.
Explore
For now, we hope you'll take the time to look around and enjoy exploring all the resources of this website, including our catalog powered by LibraryThing and TinyCat. But when you are ready, we look forward to meeting you face-to-face, providing you with a personal tour of our world-class Franciscan book collections, and introducing you to our beloved Saint Francis of Assisi whose imitation of Christ and timeless message of humility, peace, and love for all of creation still lives in our minds and burns in our hearts today.
Questions?
Read our FAQs or ask a librarian! We're only a phone call, email, or tweet away.SaveSaveSave
---
Save
Save
Save
Save
Save
Save
Save
Save
Save
Save
Save
Save
Save
Save