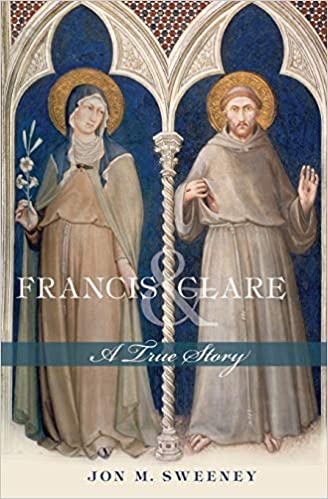 This joint biography illuminates the lives of Francis and Clare and their way of life. It shows how they were bound together by devotion to God as well as the violent objections of their families to religious life.
Our price: $10.79
Retail Price: $11.99
Save 10% ($1.19)

Your purchase helps us continue to add new Franciscan titles to our library catalog. Thank you!
Book Description
This joint biography illuminates the lives of Francis and Clare and their way of life. It shows how they were bound together by devotion to God as well as the violent objections of their families to religious life. It explores a variety of issues they faced, including the treatment of lepers in medieval society, corruption in the church, and attitudes toward the created world. You will learn how Clare's spirituality influenced that of other prominent women, how Francis lost control of his own movement, and why Francis's body was secretly buried after his death. (Paraclete Press)
ABOUT THE AUTHOR
Jon M. Sweeney's popular history, The Pope Who Quit: A True Medieval Tale of Mystery, Death, and Salvation, has been optioned by HBO. In addition to The Pope's Cat series for children, he's the author of other books including The Complete Francis of Assisi, and When Saint Francis Saved the Church, winner of a 2015 award in history from the Catholic Press Association. (Paraclete Press)
Book Details
| | |
| --- | --- |
| Title: | Francis & Clare: A True Story |
| Author: | |
| Publisher: | Paraclete Press |
| Publication Date: | 2014 |
| Size: | 5.25 x 7.75 x 0.5 inches |
| Weight: | 8 ounces |
| Pages: | 256 |
| Format: | Paperback |
| Product ID: | 0510520 |
| ISBN: | 9781612614540 |
| Quantity Available: | 14 |
| Shipping | $3.95 Standard s/h via USPS Media Mail (USA only) |