Br. Allen A. White, OSF
Founder & Director, Saint Francis of Assisi Research Library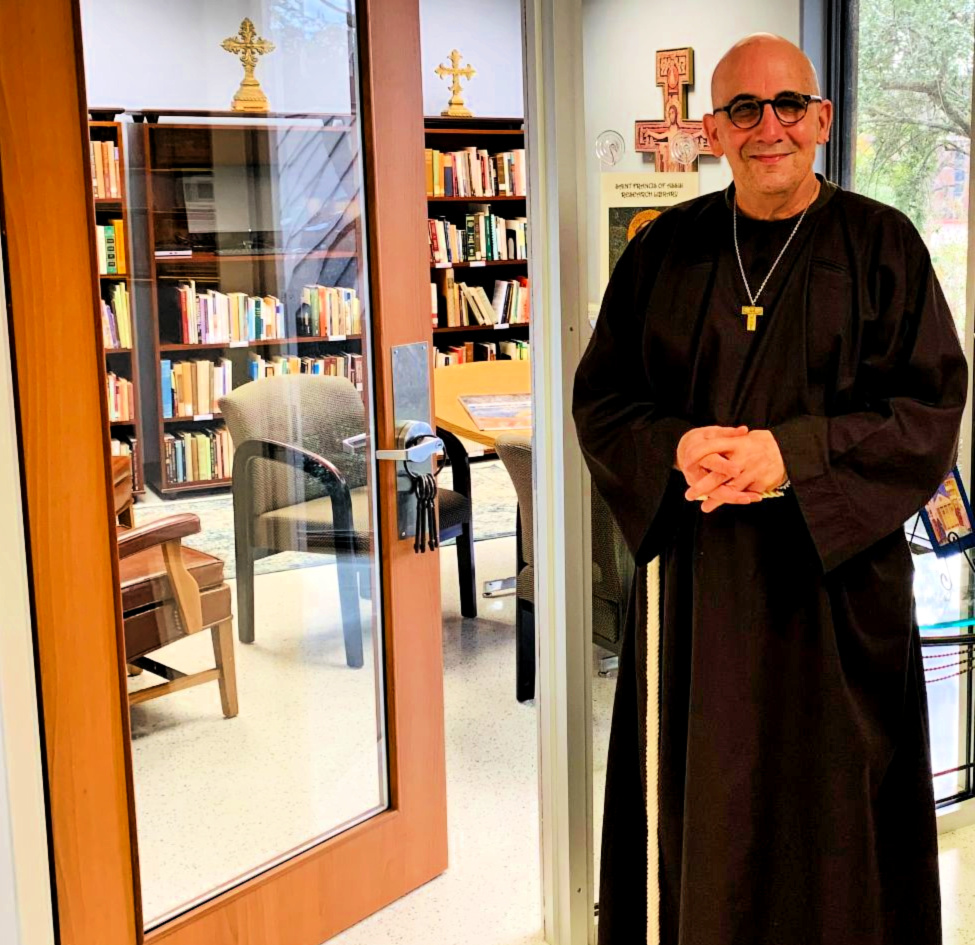 As a native Houstonian and Franciscan friar with the Order of Saint Francis (OSF), Brother Allen's diverse, professional career has spanned more than forty years in the church, non-profit, and private sectors.
Although born, raised, and educated as a Roman Catholic, Allen's formal theological training was attained at Tennessee Temple University, now part of Piedmont International University. Subsequently, he was licensed and ordained first as a Deacon, then a Minister of the Gospel with the Southern Baptist Convention. Music school was soon to follow. In addition to his private studies in classical guitar and composition, Allen received his classical music education at the University of Houston's Moores School of Music where, for six years, he studied voice with tenor, John Druary of New York City Opera.  He is a published songwriter with Zondervan and Benson Music.
His ecumenical ministry over the years has included serving numerous congregations as an associate pastor, minister of music, worship leader, and teacher of Christian meditation, including: centering prayer, nexus prayer, and the contemplative method of prayer as practiced and taught by the World Community for Christian Meditation (WCCM).  And deeply inspired by their teaching, writing, ministry, and music, several of Allen's muses and mentors have included Fr. Thomas Keating (Contemplative Outreach), his spiritual director Sr. Adeline O'Donoghue (Ruah Center at Villa de Matel), and Br. John Michael Talbot (Brothers and Sisters of Charity). In the "real world", his secular career has included work as a human resources executive, retail manager, bookseller, and even an antiquities dealer. In other words, Brother Allen has worn many different hats over the years. Now, he doesn't even have hair!
Today, Brother Allen  simply prefers to be thought of as a follower of Jesus in the footsteps of Francis. And because he believes, like his beloved Saint Francis, that all are created in the image of God, he feels called to share the unconditional love of God with all whom he encounters. This also includes advocating for the "least of these", the homeless community, at Hope Center Houston where he serves full-time as the Chaplain, a member of the Board of Directors, and the Director of the Saint Francis of Assisi Research Library. Allen attends Saint Dunstan's Episcopal Church where he serves as a Eucharistic Minister and volunteers in the pastoral care department as a certified Stephen Minister. His wife, Leslie Ann, also works full-time in ministry serving adult women victims of sex and human trafficking.