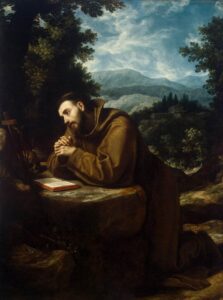 ADVOCACY & SOCIAL JUSTICE
Striving to be "the hands and feet of Christ" in whatever way I am able, and on behalf of the Saint Francis of Assisi Research Library, I am blessed to be able to pray for, volunteer, and financially support a few select ministries and organizations who have dedicated themselves to helping "the least of these" spoken of in Matthew 25:35-40 – those most affected in our communities by the social injustices of our modern world. Praying Nature and 4Ocean are two such missions of mercy. ~ Brother Allen, OSF

---
Caring for Creation
with Praying Nature & 4Ocean


What with the global crisis associated with climate change, pollution, biodiversity, deforestation, the ocean plastic crisis, increased species extinction, and now the Covid-19 pandemic now a part of our worldwide, everyday news cycle, the need to care for creation (including the human species) has never been more important.
And although just one voice amidst the cacophony of environmental naysayers, Brother Allen believes he has a moral responsibility as both a Christian and Franciscan friar to help raise awareness of these vital issues affecting not only our current generation, but all the generations to come.
For all the reasons  listed above and more, Brother Allen is pleased to support two organizations making a huge difference in the world through their advocacy, strategies, education, and partnerships: 4Ocean and Praying Nature.
---
 "For His sake, I am but one, but I am one. I cannot do everything, but I can do something. What I can do, I ought to do. What I ought to do, by the grace of God, I will do. Lord, what will you have me do?" ~ Edward Everett Hale.