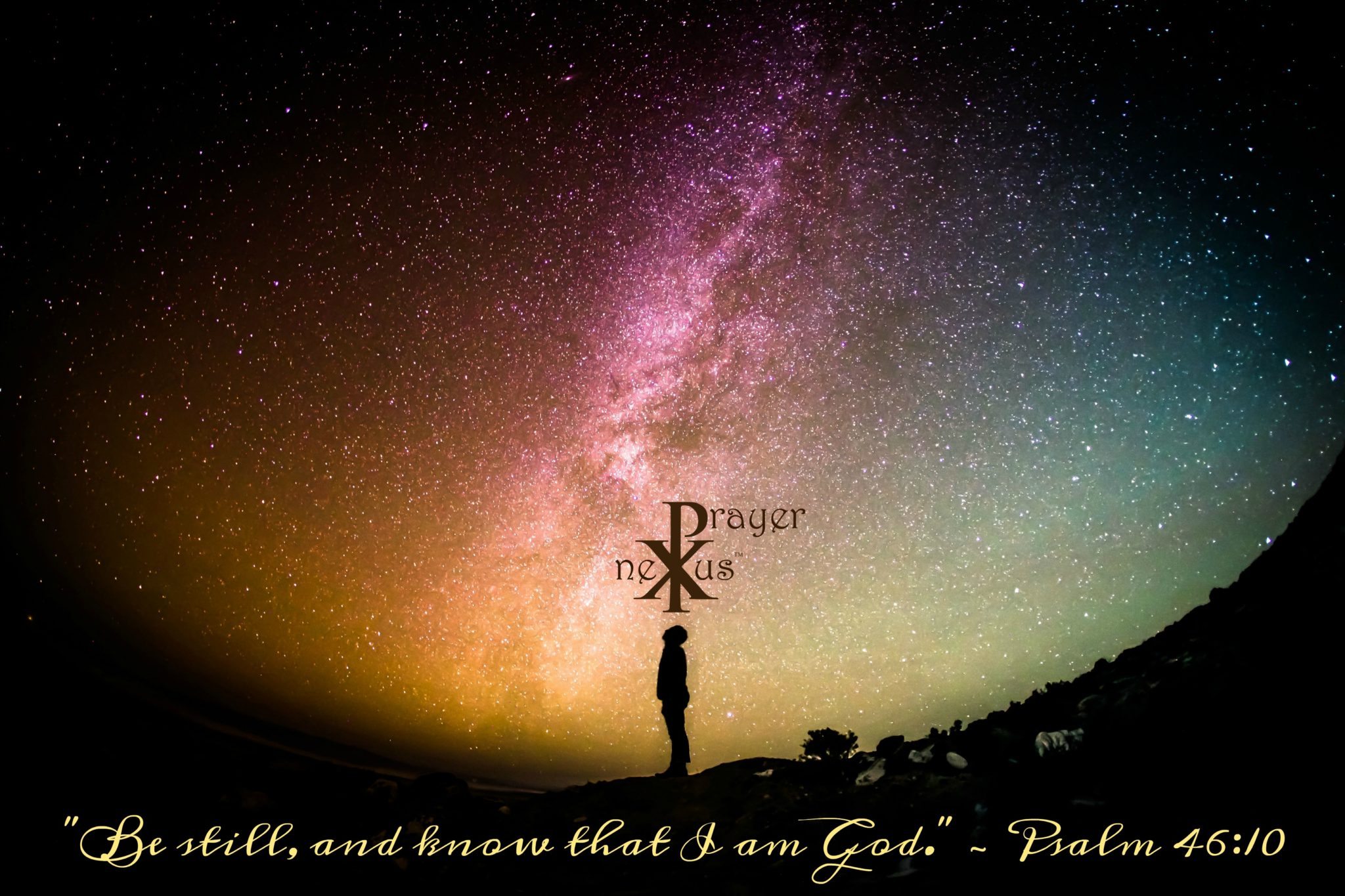 NEXUS PRAYER: STEP THREE – KNOW

"Be still, and know …." – Psalm 46:10a
Know God
Just as God is triune, so is man (and woman). God created us "in His image" as body, soul, and spirit Genesis 1:27. Consequently, we can "know" Him in all three realms.
When I was an agnostic, I tried to know God with my head. But after God revealed himself to me and I chose to become a Christian (he chose me first) as a follower of Christ, I began to know God with my heart, my soul. Today, thanks to nexus prayer, I experience God—know God with my body, mind, and spirit. Indeed, Scripture's simplest "definition" or description of God is found in I John 4:7,8 "…God is love." A post that more fully examines this vitally important word "know" that is strategically embedded in Psalm 46:10 and halfway through the nexus prayer cycle is forthcoming. But for now, and in a very real way, suffice it say that when you get to this stage of nexus prayer, you may feel free with full confidence to exchange the word "know" for "love." It follows naturally from the previous step: I AM …loved.
Know God with our Body
In prayer, we are to bring our whole body under control I Cor. 9:27. It takes discipline to be still, quiet our mind, and listen to God in prayer. Our body represents "world consciousness"—how we connect with the world. We can therefore know God through His creation Romans 1:20. For example, even the physical intimacy shared between a husband and wife illustrates the intimate communion (the nexus) we are capable of having with God through prayer. Interestingly, the word "know" in the following two examples is the identical word (although in different tenses) used in Psalm 46:10:
"And Adam knew Eve his wife, and she conceived…" Genesis 4:1
"Then said Mary unto the angel, How shall this be, seeing I know not a man?" Luke 1:34
"And this is life eternal, that they might know thee the only true God, and Jesus Christ, whom thou hast sent." – John 17:3

Know God with our Soul
Our soul represents "self-consciousness" and includes our mind, intellect, affections, emotions, etc.  Jesus said the greatest commandment is to "… love the Lord thy God with all thy heart, and with all thy soul, and with all thy mind." Matthew 22:37
Know God with our Spirit
Our spirit represents "God consciousness", as it is our human spirit that communes with God's (Holy) Spirit – the nexus of where our spirit joins God's Spirit. Jesus said to Nicodemus, "Art thou a master of Israel, and knowest not these things? You must be born again." John 3:3,10

READY:

Give God your full, undivided attention in this step of nexus prayer.
SET: Set your prayer timer¹ for five minutes, or the appropriate interval (5, 10, 15, 20 m)
SIT: With your eyes closed during the fifteen seconds of preparation time, sit comfortably in a chair with your hands by your side or in your lap. Breathe normally, and just let your body relax letting go of anything and everything that comes to your mind..

PRAY

: Begin by silently, or softly verbalizing (once): "Be still, and know …"
VISUALIZE: For a few seconds, ruminate on the prayer word "know."
LISTEN: Then, simply be still, silent, and listen to God, ignoring any and all thoughts, problems, memories, sounds, or distractions that may come your way. Should internal thoughts or external distractions arise, simply dismiss them by returning to the prayer word, "God", of this step of Psalm 46:10. Continue in Nexus Prayer until the chime of your prayer timer prompts you to move to move to step four.
CONTINUE NOW TO STEP FOUR
NOTES & CREDITS
Although you can use your watch, built-in phone timer, or even the the timer on your microwave., I recommend downloading and using  Meditation Timer Pro for iPhone from the App Store. The free version (with ads) works perfectly fine, but for only $1.99  you can download and customize the timer without ads. I've used it since 2015 with virtually no problems and love it! Questions about setting up and using the timer? Contact me.
Photo Credit: Original photograph by Greg Rakozy | Used & modified with permission | Nexus Prayer International
Save
Save