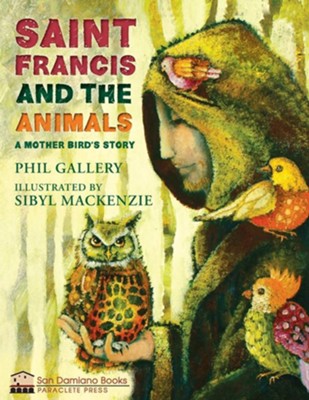 Mother Bird tells her son stories of St. Francis of Assisi.
Our price: $15.29
Retail Price: $17.99
Save 15% ($2.69)

Your purchase helps us continue to add new Franciscan titles to our library catalog. Thank you!
Book Description
OVERVIEW
Mother Bird tells her son stories of St. Francis of Assisi.
If the animal kingdom can understand the life and teachings of the world's most famous saint, so can children, who will be delighted by this simple, beautiful book for the ages. (Paraclete Press)
ABOUT THE AUTHOR
Phil Gallery is the author of four books in the "Can You Find" series that have sold more than 140,000 copies. All four won the Catholic Book Association's coveted Best Book Award. Three made the Catholic bestseller list, and Can You Find Jesus? reached the top of the list.  He lives in the hills of eastern West Virginia, where he and his wife Shari raised their four children.
Sibyl MacKenzie was born in Virginia, and has lived in England, China, and Germany. She studied Chinese watercolor painting under Hsiao Yu Hsien for five years. She graduated from Columbia University with a degree in German Literature and has exhibited in galleries all over the United States.
Book Details
| | |
| --- | --- |
| Title: | St. Francis and the Animals: A Mother Bird's Story |
| Author: | |
| Publisher: | Paraclete Press |
| Publication Date: | 2018 |
| Size: | 8.5 x 11 inches |
| Weight: | 12 Ounces |
| Pages: | 32 |
| Format: | Hardcover |
| Product ID: | 0310120 |
| ISBN: | 9781612619736 |
| Quantity Available: | 1 |
| Shipping | $3.95 Standard s/h via USPS Media Mail (USA only) |