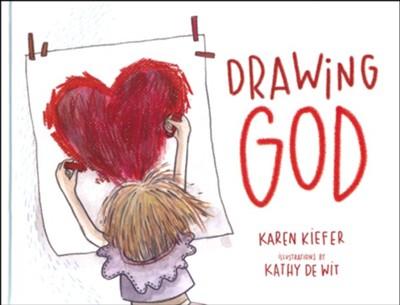 Picasso's artistic inspiration takes hold of young Emma's faith imagination in this beautifully illustrated debut picture book about how we all see God differently.
All net proceeds from the sale of this book benefit the Hope Center Houston homeless community.
Our price: $15.29
Retail Price: $17.99
Save 15% ($2.69)

Book Description
OVERVIEW
"This urge to draw something beyond spectacular would not leave my side. 'What should I draw?' I thought. I sat quietly, listening to my mind and heart. That's when I heard their whisper and I decided to draw God." Emma tries again and again and again to draw God, but her classmates can't see God in any of her drawings. Emma finally realizes that she doesn't need their approval.  "I knew I had drawn God. God knew I had drawn God, and maybe Picasso knew, too. That finally felt like enough." But when Emma returns to school on the following Monday, something beyond spectacular happens.
Drawing God is a story for children to discover what inspires their very own faith imagination and to realize the contagious faith that lives powerfully within them. (Paraclete Press)
Celebrate World Drawing God Day on November 7th. Visit www.drawing-god.com

ABOUT THE AUTHOR
Karen Kiefer is the Director of the Church in the 21st Century Center at Boston College and managing editor of C21 Resources magazine. A catechist for over two decades, Kiefer also served as an adjunct faculty member in the Communication department at Boston College. Kiefer cofounded the grassroots, award winning, bread-giving organization Spread the Bread, winner of the "National Make a Difference Day Award." A decade later, she published the children's Christmas storybook The Misfit Sock and launched a companion educational initiative—Misfit University—and the national anti-bullying movement, The Million Misfit Sock March. Kiefer's programs have been adopted by the Girl Scouts nationally and she has been featured in the Boston Globe, the Boston Herald, USA Today and People magazine. She has sold 10,000 copies of The Misfit Sock through grassroots marketing and promotion. Kiefer lives in Wayland, Massachusetts with her husband, Sam, and four daughters.
Illustrator Kathy De Wit creates and teaches art in Belgium, where she lives with her husband and her two daughters.
Book Details
| | |
| --- | --- |
| Title: | Drawing God |
| Author: | |
| Publisher: | Paraclete Press |
| Publication Date: | 2019 |
| Size: | 11 x 8.5 x 0.25 inches |
| Weight: | 15.2 ounces |
| Pages: | 32 |
| Format: | Hardcover |
| Product ID: | 0210020 |
| ISBN: | 9781640601871 |
| Quantity Available: | 19 |
| Shipping | $3.95 Standard s/h via USPS Media Mail (USA only) |