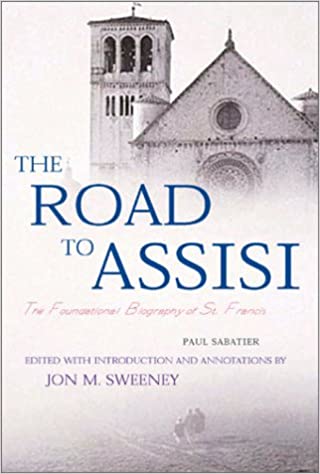 The Essential Biography of Saint Francis of Assisi by Paul Sabatier. Edited with Introduction and Annotations by Jon M. Sweeney. Discover how the privileged son of a wealthy Italian merchant became the most loved figure in Christian history since Jesus.
Our price: $17.95
Retail Price: $19.95
Save 10% ($1.99)

Your purchase helps us continue to add new Franciscan titles to our library catalog. Thank you!
Book Description
Originally published in French in 1894, Sabatier's was the first modern biography of Francis of Assisi. It was a worldwide bestseller, and in 2003 when this new edition was first published by Paraclete Press, it again sold more than 60,000 copies and was a selection of History Book Club.
ABOUT THE EDITOR

Jon M. Sweeney's popular history, The Pope Who Quit: A True Medieval Tale of Mystery, Death, and Salvation, has been optioned by HBO. In addition to The Pope's Cat series for children, he's the author of other books including The Complete Francis of Assisi, and When Saint Francis Saved the Church, winner of a 2015 award in history from the Catholic Press Association. (Paraclete Press)
Book Details
| | |
| --- | --- |
| Title: | The Road to Assisi |
| Author: | |
| Publisher: | Paraclete Press |
| Publication Date: | 2003 |
| Size: | 6.00 x 9.00 x 0.5 inches |
| Weight: | 10 ounces |
| Pages: | 225 |
| Format: | Hardback |
| Product ID: | 0810920 |
| ISBN: | 1557253285 |
| Quantity Available: | 1 |
| Shipping | $3.95 Standard s/h via USPS Media Mail (USA only) |