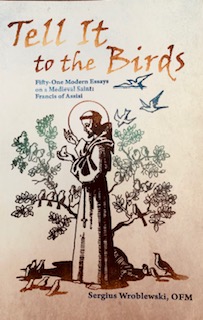 Tell It to the Birds
Fifty One Modern Essays on a Medieval Saint:
Francis of Assisi
by Fr. Sergius Wroblewski, OFM

Our price: $10.75
Retail Price: $11.95
Save 10% ($1.00)

Your purchase helps us continue to add new Franciscan titles to our library catalog. Thank you!
Book Description
Tell It to the Birds
Fifty-one Modern Essays on a Medieval Saint
Sergius Wroblewski, OFM
Tau Publishing
160 pages, Paperback Edition
This is a collection of fifty-one insightful and delightful essays on the Saint of Assisi, written by one of his followers who has spent a notable portion of his life seriously studying Francis.
Father Wroblewski poses the question: "What would St. Francis have done today?" Admitting that no one can adequately answer the question, except in the realm of speculation, he attempts to contextualize Francis' ideals by presenting the Saint's radical Christian stance in the contest of modern life. He achieves this with remarkable success.
You may or may not agree with all the conclusions which become manifest, but you will be motivated to appreciate the insights you will find. The Poverello often was so admirable and captivating but hardly that often imitable. His ideals, so noble and natural to him, are not that easy for others to attain.
Book Details
| | |
| --- | --- |
| Title: | Tell It to the Birds |
| Author: | |
| Publisher: | Tau Publishing |
| Publication Date: | 2013 |
| Size: | 8.50 x 5.50 x 0.50 inches |
| Pages: | 160 |
| Format: | Paperback |
| Product ID: | 0811020 |
| ISBN: | 9781619562103 |
| Quantity Available: | 1 |
| Shipping | $3.95 Standard s/h via USPS Media Mail (USA only) |