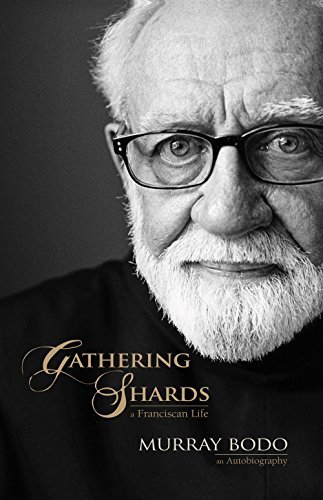 Gathering Shards
A Franciscan Life
by Murray Bodo, OFM

Our price: $19.95
Retail Price: $24.95
Save 20% ($4.99)

Your purchase helps us continue to add new Franciscan titles to our library catalog. Thank you!
Book Description
Gathering Shards
A Franciscan Life & Spiritual Autobiography
by Murray Bodo, OFM
Tau Publishing
381 pages, Hardcover Edition
In Gathering Shards Murray Bodo celebrates 60 years as a Franciscan friar by telling the story of how God found him and called him to the Franciscan life when he was a young boy in Gallup, New Mexico, a life which has taken him far from his New Mexico roots, only to bring him home again to savor the desert and mountains that formed his early life.
The shards he gathers into this memoir are not the pottery shards he gathered as a boy, but the diverse shards that make up his life and that cohere because of the presence of God in all of them. The book celebrates his being a teacher and writer, a pilgrim and a pilgrim guide, a spiritual friend and companion, a poet and priest, and how all of these roles reveal the contours of his life, their unique shape and color adding to the forming bowl which defines his Franciscan life.
Book Details
| | |
| --- | --- |
| Title: | Gathering Shards |
| Author: | |
| Publisher: | Tau Publishing |
| Publication Date: | 2015 1st Edition |
| Size: | 8.50 x 5.50 x 0.25 inches |
| Pages: | 380 |
| Format: | Hardcover |
| Product ID: | 0811020 |
| ISBN: | 9781619564831 |
| Quantity Available: | 2 |
| Shipping | $3.95 Standard s/h via USPS Media Mail (USA only) |