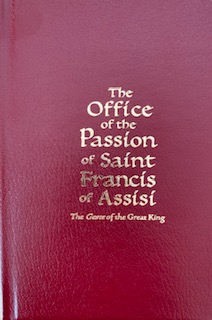 The Office of the Passion
The Geste of the Great King
Laurent Gallant, OFM
Andre Cirino, OFM
Tau Publishing
341pages, Leatherette, hardcover edition
These are the prayers that Saint Francis prayed every day.
Our price: $39.95
Retail Price: $49.95
Save 20% ($10.00)

Your purchase helps us continue to add new Franciscan titles to our library catalog. Thank you!
Shipping

USPS Standard Mail

($5.95)
Book Description
The Office of the Passion
The Geste of the Great King
Laurent Gallant, OFM and Andre Cirino, OFM. with music by Josef Raischl, SFO, and illustrations by Marcus Lisle and Christine Cavalier. Preface by Sr. Margaret Carney,OSF and Sr. Frances Teresa Downing, OSC.
The Little Office of the Passion (also known as The Geste of the Great King) is a devotional office created by Francis of Assisi as a complement to the Divine Office of the Roman Catholic (and Anglican) Church. It is one of the most popular prayer books for those following in the footsteps of Franciscan Spirituality.
The Little Office  is organized in a way reminiscent of the Liturgy of the Hours. It begins with the Our Father followed by the Glory Be. After these, a series of praises composed by Francis of Assisi is recited. Then the appropriate psalm is read, framed by an antiphon to the Blessed Virgin Mary also composed by Francis. After the psalm is read and the antiphon is repeated, a dismissal concludes the Office. The seven offices include: Our Father, Glory Be, Praises, Antiphon, Psalm, Antiphon, and Dismissal.
Book Details
| | |
| --- | --- |
| Title: | The Office of the Passion of Saint Francis of Assisi |
| Author: | |
| Publisher: | Tau Publishing |
| Publication Date: | 2012, Third hardcover Edition |
| Size: | 7.00 x 4.75 x 1.00 inches |
| Pages: | 342 |
| Format: | Leatherette, hardback |
| Product ID: | 0811020 |
| ISBN: | 1619562146 |
| Quantity Available: | 1 |
| Shipping | $5.95 Standard s/h via USPS Mail (USA only) |